Green Clover is a sustainable and eco-friendly alternative to conventional Storage, Transport, Prop Hire, Prop Making, Consumables, Recycling & Repurposing methodology to the Film, TV and Entertainment industries in the UK.
You may be able to guess from the name, but we're big fans of the Earth. So the aim is to do our part in preserving it.
How do we do this? Glad you asked…
Our goal is to provide a premium service whilst keeping wastage to an absolute minimum.Quite literally fuelling our business model with Renewable Energy – created by us.
30 years of working within the Film, TV &  Entertainment  industry means that we have continuously developed a method for success. 
From small scale problem solving to highly complex strategies, we are able to offer market leading solutions that are bespoke to you and your Production, Event, Wedding, Conference or Exhibition.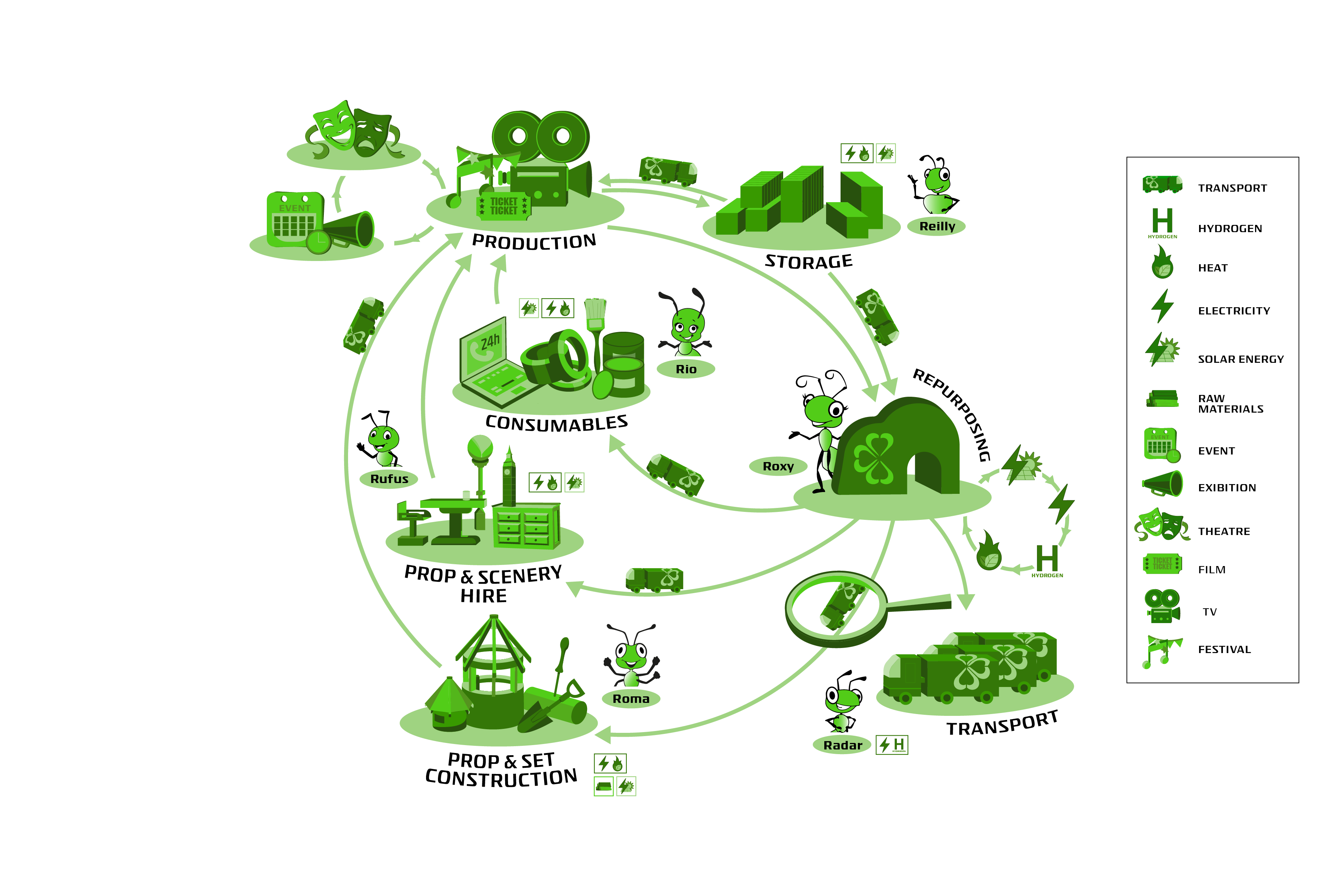 Our pledge to sustainability does not affect your bottom line. In fact, our uniquely designed ecosystem works to lower cost across the board, leveraging our patented  Repurpose Cycle  to offer the most competitive rates.
This means that our 5 star,  premium service is also having a positive impact on the planet.
If you would like to know more about our story, how we started and more information about our green practices,   contact us.
A new 210,000 sq. ft 3 storey climate-controlled storage facility
A

solar power

production facility
Hydrogen

production facility
Asset Management

software
Our mission is to provide our
services in a sustainable life cycle way encompassing all the services in one, by using our expertise.
We understand the AV & Entertainment needs and our mission is to benefit both clients and environment.
Our vision is to be the most sustainable company and become an example for others by providing the best level of quality on our practices and constantly innovate and improve.
Our team ensure that in each of the services we provide, our values ​​are being emphasised.

Our focus is on sustainability and on making all our processes increasingly eco-friendly while maintaining the highest quality of service.